Summer in Niseko is cycling season; green pastures, rolling hills, plenty of sunshine and mild summer temperatures make for an idyllic time of year to explore on two-wheels.
The beauty of cycling is that it can be as challenging or as leisurely as you want. Great news for those of us who haven't cycled before and are looking to try something new while still having fun on holiday. For the keen cyclist enthusiasts who love a great challenge, then Niseko has lots to offer, too!

Here's some of the best ways to experience Niseko via two-wheels.

Explore the Countryside
Take the road less travelled and cycle your way down straight roads extending through the many farmlands and fields lying at the foothills of Mt. Yotei. The moment you venture down a side road off the main roads, you'll enjoy virtually no traffic and a tranquil landscape.
Farm roads are great to explore if you are wanting to ride on flatter ground at your own pace. It's also perfect for those who want to have a leisurely ride, taking in the fresh Hokkaido summer air and to enjoy the scenery.
Soak Up the Sights Around Mt Yotei
If you want to cycle further a field but still go at your on pace then a ride around magificent Mt. Yotei might be perfect for you.It's a course sure to please beginner cyclists as well as cycling enthusiasts.
The course stretches 43km around the iconic landmark of Niseko, running through the towns of Kutchan, Kimobetsu, Niseko, Makkari, and Kyogoku. This course does have cross hillsides so it has moderate inclines and descents.
If you need a break, no problem. Resting points with natural spring water awaits you in Makkari and Kyogoku at Fushidashi Park. This ride will make great holiday memories!
Go Up a Gear on a Hillside Ride
Push yourself and really get your heart racing with a ride with hill climbs. Ride mountainous area of Niseko located within the Niseko-Shakotan-Otaru coastal Quasi National Park where the Niseko Panorama Line and other mountain
roads connect to each other. The roads make a great variety of courses to choose from.
These roads are also home to various competition races such as the Niseko Hanazono Hill Climb Race. Take in the glorious scener spanning the Niseko mountain range to the Sea of Japan.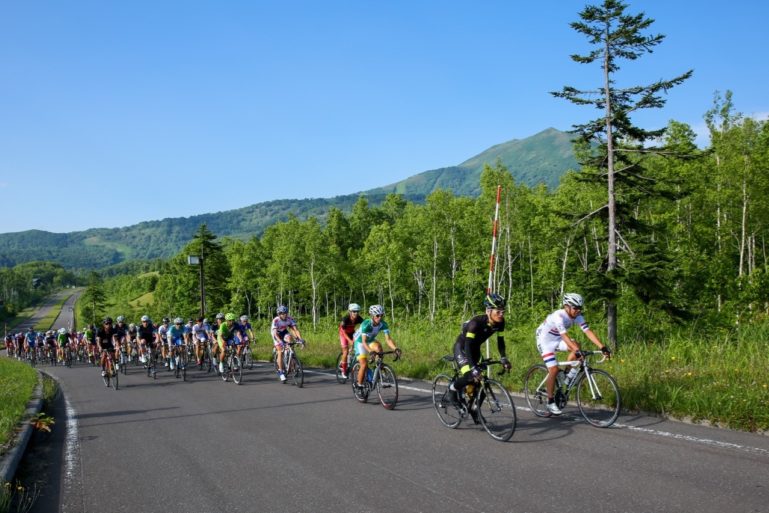 Enjoy the Yotei Fun Ride
Step it up a gear with the Yotei Circuit Fun Ride. To celebrate the annual UCI Niseko Classic, the Niseko Classic Yotei Circuit Fun Ride will be held as a fun preliminary event for entrants of the Niseko Classic, their friends and family, and anyone else who enjoys cycling, for fun! The course is suitable for beginners to advanced riders and provides something for everyone.
Entries close June 20th, 2017, so jump to it! Read more about the Yotei Fun Ride.
Race in the Niseko Classic
Want a real challenge? The 4th Niseko Classic is for you. Held in Niseko on July 8th and 9th, 2017, the annual road cycling race sees riders enjoy closed roads, clean air and beautiful vistas, with two race categories to choose from: 140km or 70km.
Entries close June 18th, 2017, so don't delay! Read more about the Niseko Classic and our special offer for entrants and families!

For Little Riders
Your child can also have fun on two-wheels and learn to balance and coordinate with the Strider Enjoy Cup! The second annual Cup is taking place again this summer in 2017 for the second time in Niseko.
Entries close June 25th, 2017, so get ready! Learn more about the Strider Enjoy Cup and our special offer for families participating.