Hiking is a great way to explore and appreciate the wonder of Hokkaido's landscape, with trails now open for the summer season.
If you haven't hiked before or a fairly new to it, it's a good idea to start with courses to suit your fitness levels. Here are some of the top trails for you and your family to try when you're in Niseko this summer.
Walking Trails
Lake Hangetsu
Lake Hangetsu or "half moon lake", named because of its unique half moon shape, is a volcanic lake located at the west foot of Mount Yotei and a landmark of Niseko. Get close to nature with large Japanese oak trees, wild plants and flowers. With some luck, you may see some chipmunks or woodpeckers.
Walk along the promenade from the parking park down to the lake shore. The path down to the lake shore is narrow and steep so be sure to wear proper walking shoes.
Location: View Google Map.

Shinsen-numa
Enjoy a pleasant, scenic walk for the whole family (including children and the elderly) at Shinsen-numa ("numa" meaning marsh). Small and medium ponds are dotted around Shinsen-numa with wooden paths are built on the wetland.
Take in the magnificent scenery with the beautiful reflections on the marsh water.

Location: View Google Map.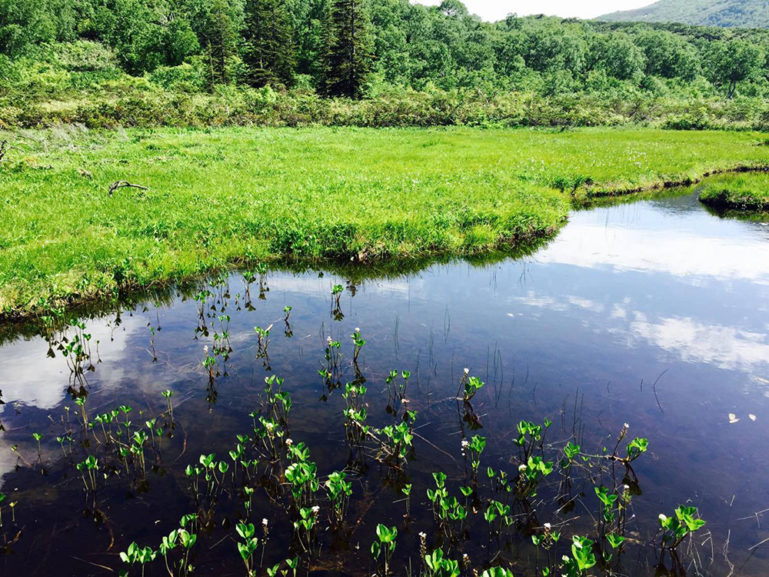 Kagami-numa
Kagami in Japanese means mirror and with the pond water being crystal clear it's very easy to see why the place got its name. The hiking course takes about 45 minutes to climb the 570 metres to the marsh and has an easy slope and well-maintained path.
Location: View Google Map
Hiking Trails
Shirakabayama
With an altitude of 959 metres, Shirakabayama is a lesser known peak in the Niseko range. It's a relatively easy-to-climb mountain at the border between Kyowa and Ranpetsu Town. There is a trail head at Niimi Pass and a climb to the summit with take about an hour and a half (one hour downhill).
Location: View Google Map
Asahigaoka Park
Explore the walking path and this properly maintained course great for small children, too. Take in the scenery seen from the top of the former ski jump. Bring along a picnic for the family to enjoy with picnic areas, campgrounds and playgrounds to enjoy.
Location: View Google Map

Mt Iwaonupuri
Arrive on the summit of Mt Iwaonupuri in an about an hour's hikes with an altitude of 1309 metres. The trail head is located at Goshiki Onsen and the return hike also finishes there; a great way to soothe tired muscles post-hike. This hike is a great way to work up a sweat.
Location: View Google Map
Mt Annupuri
Enjoy stunning Mt Yotei views from the summit of Mt Annupuri, Niseko's famous ski field in winter. Start your hike from Goshiki Onsen taking around 1 hour and 40 minutes to reach the summit. Hike down or ride the Summer Gondola.
Post-climb, enjoy a soak at Goshiki Onsen. This hike is a more immediate hike so great for active families.
Location: View Google Map