April is the month of cherry blossoms. Flowering all over Japan, they cover the entire nation in a pink hue! In parts of Japan, cherry blossoms have reached full bloom approximately ten days earlier than last year. But where will this wave of pink appear in Niseko? 
Lake Toya
A drive away from Niseko, Lake Toya is a great place to visit for a quick road trip. With rows of cherry blossoms planted along Lake Toya and Mt Usu sitting in the background, this location becomes one of the most picturesque spots in spring. 
Arishima Memorial Footpath Sakura Hill
Take a stroll through Arishima Memorial Footpath Sakura Hill and enjoy the view of over dozens of cherry blossoms in full bloom. Surround yourself in light pink petals dancing in the cool wind. 
Makkari Shrine
Makkari Shrine, located 25 minutes away from Kutchan Town (Niseko) is a Shinto shrine which dates back to the Meiji Era. Walking up to the shrine, visitors are greeted with two rows of Sakura trees on either side of the path. The long path covered in cherry blossoms will put visitors in a state of serenity before reaching the sacred shrine.
Around Niseko United Resort
Dotted around Niseko, there are many cherry blossom trees planted in solitary or small clusters by locals. Go on a wander and discover your own secret spot for viewing cherry blossoms. 
Below is a detailed map of when cherry blossoms will bloom across Japan.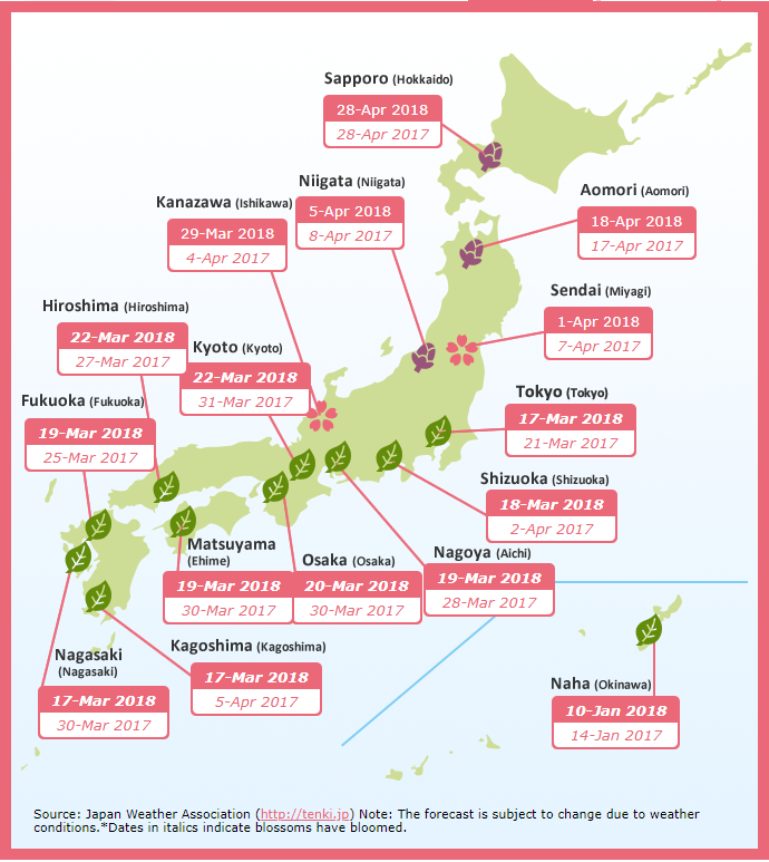 In Hokkaido, cherry blossoms have been forecast to flower on the 28th April 2018. Making it perfect for our guests to take full advantage of both spring skiing and hanami (traditional flower viewing) during their stay! 
Full bloom is expected in the first week of May in Hakodate, Sapporo and Kutchan Town (Niseko). 
Interested in visiting Lake Toya or Makkari Shrine? Talk to us and organise a hassle free trip with SkyExpress.