Niseko and it's surrounding areas are home to many onsens (hot springs), including Yukoro Onsen in Hirafu village. 
Onsens are a part of Japanese culture and a must-do experience when in Japan. Not only is soaking in a hot bath relaxing and invigorating for the body but it's also therapeutic for the mind and soul.
To start you on your onsen experience here is our must-read guide to onsen etiquette in Japan. You'll be pleased to have read it to take the guess-work out of this authentic Japanese experience.
1. Remove clothes
No clothing or bathing suits are allowed in the onsen. Keep all clothing in the change rooms.
2. Wash your body
To preserve the purity of the onsen for all to enjoy, wash yourself and rinse off soap completely before entering.
3. Be courteous
Respect others and refrain from jumping, splashing, swimming, shouting, or otherwise disturbing fellow guests.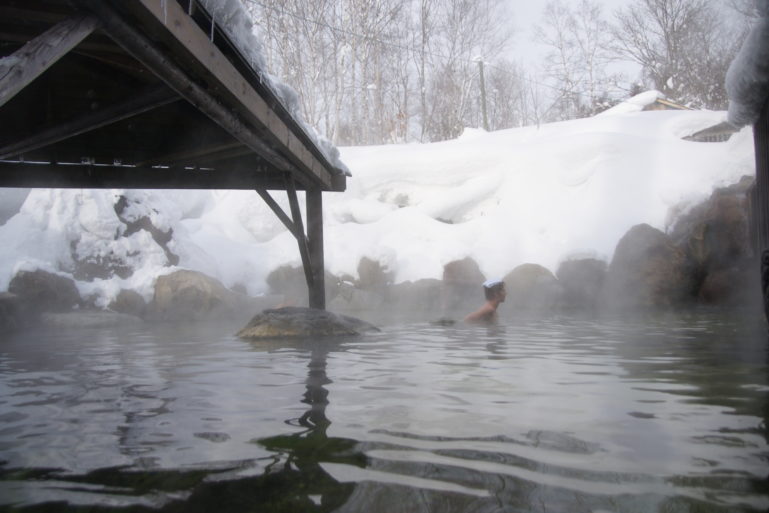 4. Tie hair up
Long hair must be kept tied up and out of the water.
5. Soak yourself, nothing else
Keep your towel and all other items out of the onsen.
6. Be sober
For your health, refrain from using the onsen or sauna when intoxicated.
7. Don't eat or drink
Respect the peace and relaxation of others by not eating or drinking in the onsen.
8. No photography allowed
While it may be tempting to snap a picture of the beautiful scenery at the onsen, respect people's privacy by not taking photos. Cameras or cell phones are not allowed in onsen.
9. Dry off
Wipe off excess water with your face towel before stepping into the changing room.
For more information on where to visit an onsen, visit our Onsen listing.